In Response to Australia's Mandatory Vaccine Policies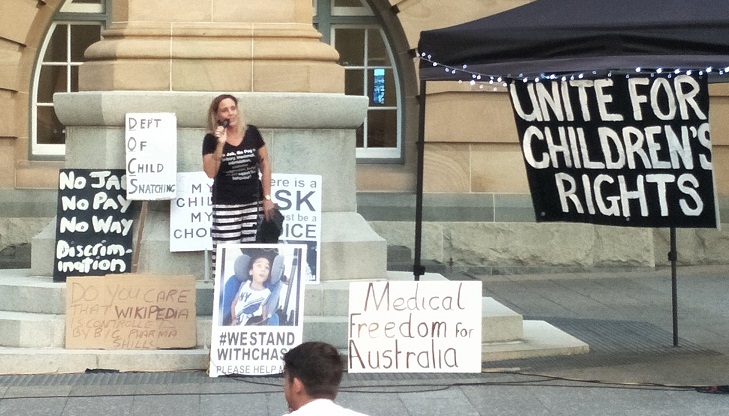 By Kylie Stevens
Daily Mail Australia
Excerpts:
Queensland parents who have been shunned by the mainstream for not vaccinating their children are fighting back.
The Sunshine Coast-based Natural Immunity Community, a network of anti-vaccination families, has revealed plans to create their own childcare and homeschooling in response to the federal government's No Jab No Play regulations implemented in 2016.
Network spokeswoman Allona Lahn has accused the government of insighting fear and spreading misinformation and propaganda about vaccination.
She has called for a national debate on the controversial issue and told Daily Mail Australia she thinks the anti-vaxxers would win.
Under the federal policy, only parents of children who are fully immunised can received any family tax benefits and childcare rebates they are eligible for.
'We are creating alternatives as we have been forced into a corner thanks to the bullying, intimidation tactics by our government,' Ms Lahn said.
'Mothers rights' have been lost in the community so we're offering services to help and support anti-vaxxers out there.'
According to Ms Lahn, Natural Immunity Community membership has skyrocketed from 18 to 800 within three years on the Sunshine Coast, where parts of the region have the lowest immunisation rates in Queensland for five-year-olds.
Ms Lahn, who has friends and family who do vaccinate, says she has widespread support and the only backlash received has been online.
She hopes to raise awareness of the social implications of the policy.
'There's been no adverse reaction from the community, all the negativity has been online,' she said.
'I have been inundated from so many people around Australia wanting advice and help. No doctors or scientists will speak out in fear of being vilified.'
She urged all parents, regardless their stance on the topic to do their own research.
'All we're asking is for the right to choose and we're not getting that,' she said.
Read the full article at Daily Mail.
Medical Doctors Opposed to Forced Vaccinations – Should Their Views be Silenced?
One of the biggest myths being propagated in the compliant mainstream media today is that doctors are either pro-vaccine or anti-vaccine, and that the anti-vaccine doctors are all "quacks."
However, nothing could be further from the truth in the vaccine debate. Doctors are not unified at all on their positions regarding "the science" of vaccines, nor are they unified in the position of removing informed consent to a medical procedure like vaccines.
The two most extreme positions are those doctors who are 100% against vaccines and do not administer them at all, and those doctors that believe that ALL vaccines are safe and effective for ALL people, ALL the time, by force if necessary.
Very few doctors fall into either of these two extremist positions, and yet it is the extreme pro-vaccine position that is presented by the U.S. Government and mainstream media as being the dominant position of the medical field.
In between these two extreme views, however, is where the vast majority of doctors practicing today would probably categorize their position. Many doctors who consider themselves "pro-vaccine," for example, do not believe that every single vaccine is appropriate for every single individual.
Many doctors recommend a "delayed" vaccine schedule for some patients, and not always the recommended one-size-fits-all CDC childhood schedule. Other doctors choose to recommend vaccines based on the actual science and merit of each vaccine, recommending some, while determining that others are not worth the risk for children, such as the suspect seasonal flu shot.
These doctors who do not hold extreme positions would be opposed to government-mandated vaccinations and the removal of all parental exemptions.
In this eBook, I am going to summarize the many doctors today who do not take the most extremist pro-vaccine position, which is probably not held by very many doctors at all, in spite of what the pharmaceutical industry, the federal government, and the mainstream media would like the public to believe.
Dr. Andrew Moulden: Every Vaccine Produces Harm
Canadian physician Dr. Andrew Moulden provided clear scientific evidence to prove that every dose of vaccine given to a child or an adult produces harm. The truth that he uncovered was rejected by the conventional medical system and the pharmaceutical industry. Nevertheless, his warning and his message to America remains as a solid legacy of the man who stood up against big pharma and their program to vaccinate every person on the Earth.
Dr. Moulden died unexpectedly in November of 2013 at age 49.
Because of the strong opposition from big pharma concerning Dr. Moulden's research, we became concerned that the name of this brilliant researcher and his life's work had nearly been deleted from the internet. His reputation was being disparaged, and his message of warning and hope was being distorted and buried without a tombstone. This book summarizes his teaching and is a must-read for everyone who wants to learn the "other-side" of the vaccine debate that the mainstream media routinely censors.
SOURCE with thanks https://tabublog.com/2018/03/07/natural-immunity-community-creates-vaccine-free-zone-for-childcare-and-home-schooling-in-response-to-australias-mandatory-vaccine-policies/
Please share to encourage other people to reclaim their rights and freedom to choose. Thank you.